Unusual Aircraft Designs We Didn't Know Exist
Have you ever wondered how planes looked like in the beginning? Well, let us tell you, they were pretty weird. Many of them were built to prove a point or to advance the science of aerodynamics.
Fasten your seatbelt and enjoy the journey of history's strangest aircraft that ever flew the sky.
These are some of the most bizarre designs to ever make it to the prototype and take flight.  These "babies" were made with a lot of creativity, determination and effort.
It's amazing what kind of things can get airborne.
Top 10 fascinating history machines
1. The Stipa – Caproni (1932) – experimental Italian aircraft designed by Luigi Stipa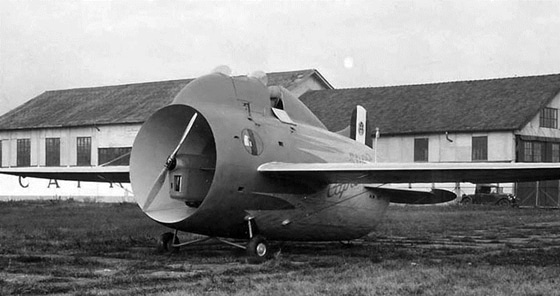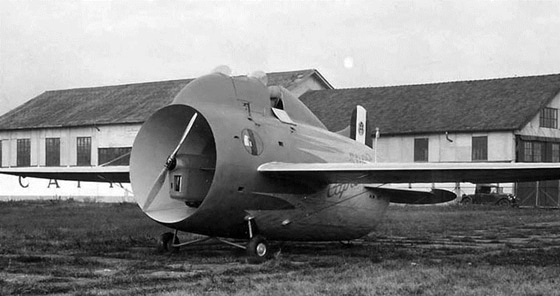 This unusual, chubby plane was developed in Italy and it looked like a flying barrel.
Making it more bizarre was barrel-shaped fuselage, with the entire interior of the fuselage being a gigantic fan which gave it a strange Looney Tunes appearance.
2. Vought V-173 (1942) – also known as "The Flying Pancake"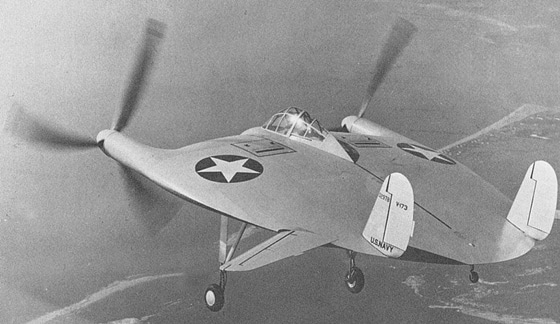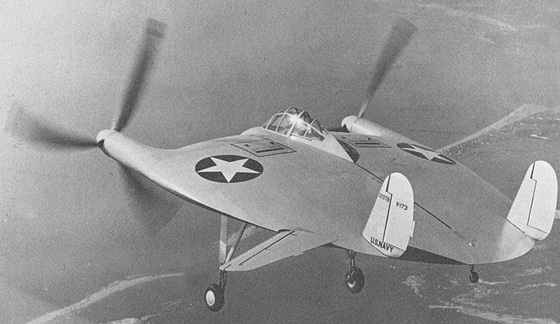 The Flying Pancake looked like a ray with two propeller shafts emerging from either side of the round fuselage. This unique designed airplane made more than 190 flights and accumulated 131 hours of flight time. It was built during the Second World War and had near vertical take-off.
Vought V-173  taking-off.

3. Leduc 0.10 (1947) – research aircraft from France

As you may already know as aircraft enthusiasts, Leduc 0.10 was the world's first plane that was powered by ramjet (a form of air breathing jet engine that uses the engine's forward motion to compress incoming air without an axial compressor). Ramjets are incapable of producing trust at the zero speed of air, so Leduc couldn't take-off on its own.
The scientist had come across an interesting solution to the Leduc 0.10 flying mechanism problem, watch in the video below.
4. Rolls-Royce Thrust Measuring Rig (1954) – known as "Flying Bedstead"

This "naked" and strange looking machine was a pioneer of vertical take-off. The jet pipes were mounted closely to minimize pitch and roll. The pilot was on top of the rig on a steel platform.
To see how flying looks like in "The Flying Bedstead" watch the video below.
5.SNECMA Coléoptère (1959) – single person aircraft with annular wing

This aircraft looked like a space ship and was designed to take-off and land vertically requiring little space. SNECMA made 8 successful flights (max 800 m). The ninth flight was fatal, the plane was crushed, but the pilot managed to escape with an ejection (150m).
For more info watch SNECMA C 450 01 Coléoptère below.
The second prototype unfortunately didn't come to life because of the lack of funding.
This is the closest looking NLO made by humankind. This amazing machine was conceived as a part of the secret project during the Cold War. Avro Canada VZ-9 Avrocar was imagined as a fighter plane, but ended up being high-performance helicopter.
If you are interested in seeing Avro Canada VZ-9 Avrocar in action, watch the video below.
The Pregnant Guppy was the first aircraft that could replace ships as outsized cargo transporter. This whale looking machine was used for transporting the rocket boosters, therefore the need for the "big belly".
8. Piasecki VZ-8 Airgeep (1962)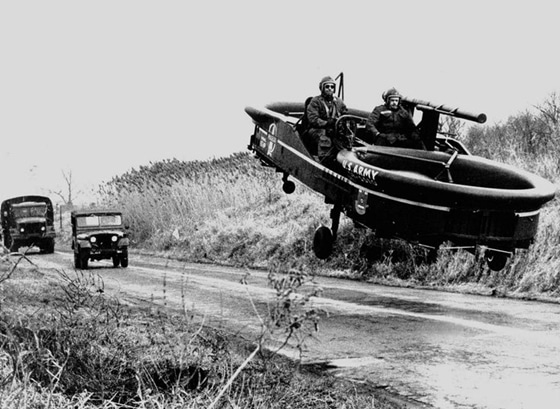 Piasecki VZ-8 Airgeep was a prototype of vertical takeoff and landing aircraft. Although the Airgeep was intended to operate within a few feet of the ground, it was also capable of flying at several thousand feet. The VZ-8 Airgeep successfully passed its testing phase with the ability to glide to soaring heights of 914 m, just incredible.
The funny looking machine was quite a unique, watch video about Piasecki VZ-8 Airgeep for more details.

9.  Bell X-22 (1966) – developed as U.S.A research aircraft

Bell X-22 was sponsored by the US Navy. Because of its unique design with a ducted fan system, it can lift off like a helicopter. The Bell X-22 led to the commercial variant of the V-22 Osprey aircraft.
Bell X-22 vertical take off experimental plane test.

Designed to be able to take-off from the water and fly at high speed over long distances,but also have the capability of "flying" efficiently just above the sea surface. After Bartini's death in 1974, the project slowed and eventually drew to a close, the aircraft having conducted 107 flights, with a total flight time of 103 hours.
To see more, check out "Strange Aircraft".
Sharing buttons
Player comments
More things for you to discover:
Popular Games From Other Sites