Sukhoi Su-75 "Checkmate" vs F 35 Lightning-II
The F-35 and SU-75 are two advanced fighter jets from different countries. Here is a comparison of their specifications:
Can It Compete With the F-35 in Price?
Su-75's manufacturer, United Aircraft Corporation, and its subsidiary Sukhoi Aircraft Company believe their stealth fighter will be cheaper than the F-35 ($30 million compared to around $80 million for the F-35). Like the F-35, the Checkmate will also be a single-engine airplane that will help reduce maintenance costs and increase fuel efficiency. The Su-75's Saturn AL-41 engine puts out 24,000 pounds of thrust without the afterburner and 39,000 pounds with an afterburner.
Substantial Weapons Delivery and Specs
The Checkmate will also have internal weapons bays that can carry a host of air-to-air missiles, air-to-ground missiles, and bombs. A 30mm cannon will be included for dogfighting. This would be a weapons payload of seven tons. The Checkmate's targeting system can track six bogeys at once. Stealthiness is attained with its V-shaped tail, hybrid wing design, and engine intakes.
UAC and Sukhoi want the Su-75 to reach speeds of MACH 1.8 with a range of 1,864 miles and a ceiling of 40,000 feet.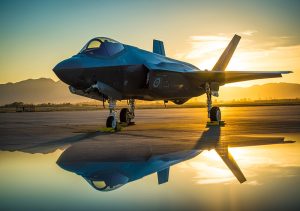 Countries Want the F-35 In Large Numbers
It is difficult to foresee a scenario in which the Su-75 would sell more than the F-35 on the export market. Numerous U.S. allies are either flying or ordering the F-35. There are eight partner countries. Non-partner countries such as Switzerland, Finland, Germany, and the Czech Republic have chosen the F-35.
Su-75 Needs a Firm Buyer Soon
UAC and Sukhoi want to sell the Su-75 to developing nations such as Vietnam, India, and countries in Africa. These air forces would love to have a stealth fighter, but can they afford the $30 million price tag to buy in enough numbers to keep the Su-75 from becoming vaporware? Russia wants one country to "jump into the pool first."
The aircraft needs a primary sponsor, as Rob Lee, a senior fellow at the Foreign Policy Research Institute said to NBC News. Lee believes the Su-75 program could languish without a substantial foreign partner. The Su-75 program needs to announce a major buyer soon. This will be difficult because of sanctions and export controls in place due to the war in Ukraine
Sharing buttons
Player comments
More things for you to discover:
Popular Games From Other Sites